Terms and Conditions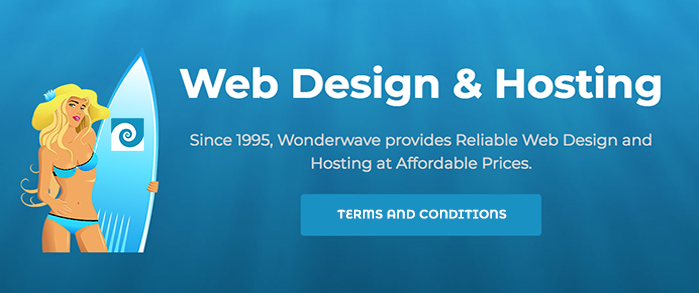 Wonderwave Hosting is a Web Hosting Provider, and Wonderwave Design is a Web Site Designer, hereby referred to as Wonderwave Hosting and Design. User accounts on our Internet servers are subject to compliance with the terms and conditions set forth below. Under the terms of this agreement, your placement or placement on your behalf of information on Wonderwave Hosting servers is an acknowledgement that you have read and understood this agreement, and that you agree to be bound by the terms and conditions below.
If you do not wish to be bound by these terms and conditions, you should not proceed to place any information of any kind yourself or on your behalf on Wonderwave Hosting and Design servers.
1. User Conduct
Wonderwave Hosting and Design services may only be used for lawful purposes. Any use of these services which violates any local, state, federal, or international laws which may apply to Wonderwave Hosting and Design, your local jurisdiction, or any jurisdiction that you or your site may be subject to is strictly prohibited.
2. Indemnification
You agree to indemnify, defend, and hold harmless Wonderwave Hosting and Design from any and all liability, penalties, losses, damages, costs, expenses, attorneys' fees, causes of action or claims caused by or resulting indirectly from your use of the service which damages either you, Wonderwave Hosting and Design, or any other party or parties without limitation or exception. This indemnification and hold harmless agreement extends to all issues associated with your account, including but not limited to domain name selection and Web site content.
3. Warranty and Disclaimer
Host warrants the Services will be performed in a workmanlike manner, and in conformity with generally prevailing industry standards. The service is provided on an "as is" and "as available" basis without warranties of any kind, either express or implied, including but not limited to warranties of title, noninfringement, or implied warranties of merchantability or fitness for a particular purpose. No advice or information given by Wonderwave Hosting and Design or its agents or employees shall create a warranty.
Wonderwave Hosting and Design provides no warranty that the service will be uninterrupted or error free or that any information, software or other material accessible on the service is free from viruses or other harmful components. Under no circumstances shall Wonderwave Hosting and Design be liable for any direct, indirect, special, punitive, or consequential damages that result in any way from your use of or inability to use the service, or for third parties' use of the service to access your Web space, or to access the Internet or any part thereof, or your or any third parties' reliance on or use of information, services, or merchandise provided on or through the service, or that result from mistakes, omissions, interruptions, deletion of files, errors, defects, delays in operation or transmission, or any failure of performance.
If you are dissatisfied with Wonderwave Hosting and Design service or any of its terms, conditions, rules, policies, guidelines, or practices, your sole and exclusive remedy is to discontinue using the service.
You understand that by placing information on Wonderwave Hosting and Design servers that such information becomes available to all Internet users and that Wonderwave Hosting and Design has no way of limiting or restricting access to such information or protecting such information from copyright infringement. You assume total responsibility and risk for your use of Wonderwave Hosting and Design servers and the Internet. It is solely your responsibility to evaluate the accuracy, completeness, and usefulness of all opinions, advice, services and other information, and the quality and merchantability of all merchandise provided through Wonderwave Hosting and Design or on the Internet generally.
4. Back Up of Data
Your use of the service is at your sole risk. Wonderwave Hosting and Design is not responsible for files and data residing on your account. You agree to take full responsibility for files and data transferred and to maintain all appropriate backup of files and data stored on Wonderwave Hosting and Design servers.
5. Ownership and Database files
Creation of a Web site involves a variety of intellectual property rights issues. From aesthetic design elements to the structure, sequence and organization of database systems, user interfaces and graphics, the rights are ultimately very valuable. For this reason, ownership must be clearly established in the Web development agreement between client and designer, and Wonderwave Hosting and Design is excluded from any third party agreement or liability.
The Web site owner should secure ownership of most of these rights through negotiation. Notably, under 17 U.S.C. Section 101 (Copyright Act of 1976), project deliverables can be designated "works for hire" in the Web development agreement.
Wonderwave Hosting and Design merely provides the "container and storage" for these files, and expects the designer or designee to manage those files to back up, maintain, and deliver files as requested.
7. No Interference
You agree not to maliciously or intentionally interfere with the proper operation of the system, including but not limited to defeating identification procedures, obtaining access beyond that which you are authorized for, and impairing the availability, reliability, or quality of service for other customers. You further agree not to interfere with the proper operation of other systems reachable through the Internet, including any attempt at unauthorized access. You agree to follow the Acceptable Use Policy of any network or service you connect to.
You agree to adhere to system policies as published online by Wonderwave Hosting and Design, including restrictions on services available with each account type, restrictions on certain features, and all other policies designed to protect and enhance the quality and reliability of service at Wonderwave Hosting and Design. You agree to abide by any and all future Wonderwave Hosting and Design policy decisions.
8. Security
You agree that the security of your account is solely your own responsibility. You further agree that if you believe the security of your account has been compromised in any way, you will notify Wonderwave Hosting and Design immediately by telephone at 815-653-7873. You shall be held fully responsible for any misuse or compromise to your account for which Wonderwave Hosting and Design is not properly notified. You agree that if any security violations are believed to have occurred in association with your account, Wonderwave Hosting and Design has the right to suspend access to the account pending an investigation and resolution. You also agree that Wonderwave Hosting and Design has the right to cooperate in any government or legal investigation regarding any aspect of our services, including services sold to you.
9. Payment
You agree to supply appropriate payment for the services received from Wonderwave Hosting and Design, in advance of the time period during which such services are provided. You agree that all setup fees are non-refundable once setup is completed. You agree that until and unless you notify Wonderwave Internet of your desire to cancel any or all services 90 days prior to renewal via email, those services will be billed on a recurring basis. You agree that you are prepaying in advance of services rendered. You agree that pro-rated refunds for unused time periods will be not provided in the event of account termination.
10. Prior Agreements
This agreement supersedes any written, electronic, or oral communication you may have had with Wonderwave Hosting and Design or any agent or representative thereof, and constitutes the complete and total agreement between the parties.
11. Jurisdiction
This agreement shall be governed by the laws of the State of Illinois, in the county of McHenry.
12. Severability
If any provision of this agreement is determined to be invalid or unenforceable, all other provisions shall remain in full force and effect and said provision shall be reformed only to the extent necessary to make it enforceable.
13. Force Majeure
Neither party will be held responsible for any delay or failure in performance of any part of this Agreement to the extent that such delay is caused by events or circumstances beyond the delayed party's reasonable control.
14. Acknowledgement
By using and continuing to maintain or place information on Wonderwave Internets' servers you are stating and acknowledging that you have read the aforementioned terms and conditions and that you understand such terms and conditions and agree to be bound by them.